SING Australia artwork by Kiri Fabila
About the artist
My name is Kiri Fabila and I am a proud descendant of the Djabera Djabera tribe from the Kimberley in Western Australia. I was born and have grown up on Turrbul and Jagera Land, in the North Brisbane area, so I acknowledge the Traditional Owners of this land which I live and work on, and pay my respects to Elders past, present and emerging. I am 22 years old, and I am in my 4th year at university studying Bachelor of Medical Laboratory Science at QUT.
In terms of my academic opportunities, from 2018 to 2020 I undertook the Aboriginal and Torres Strait Islander traineeship at QIMR Berghofer, where I worked in the Asthma Genetics lab, the Respiratory Immunology lab, and in the Aboriginal and Torres Strait Islander Health Research group. Here, I worked on a project with Aboriginal and Torres Strait Islander high school students in the laboratory to introduce them to hands-on biomedical science. In March 2020, I commenced the Metro North Indigenous Cadetship, working for Pathology Queensland, where I have continued the cadetship this year (2021) as well.
Throughout my time in this program, I have worked in the haematology and histology department at the Prince Charles Hospital laboratory, and in the multidiscipline laboratory at Redcliffe Hospital. Outside of university study and work, I enjoy painting. I come from a very creative family, and my artwork style has been influenced by my Dad's artwork. I began painting a few years ago and I find it to be very calming and therapeutic on a personal level; I believe that comes from feeling connected to my culture and more confident in my identity, which is why I enjoy painting so much.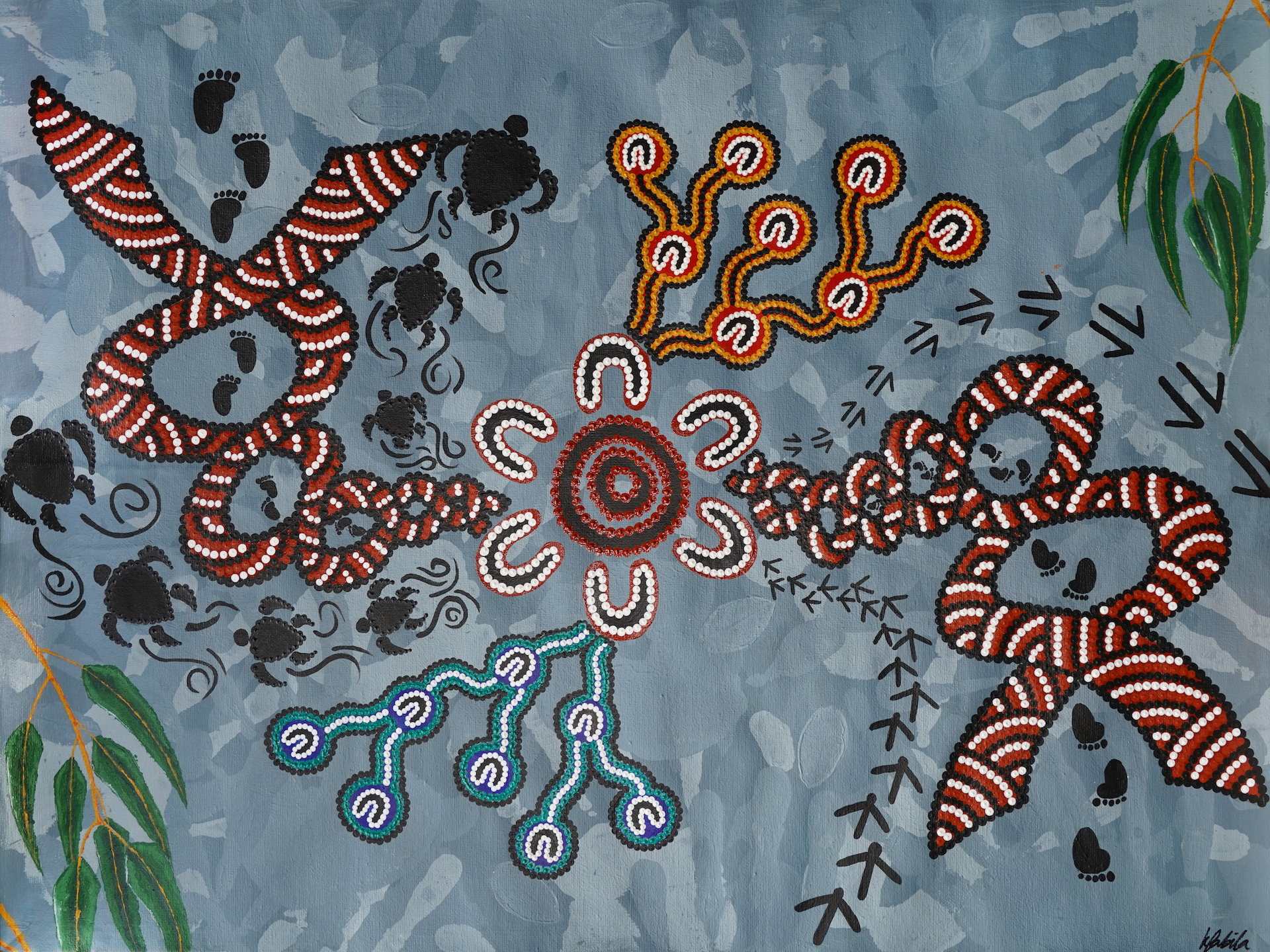 Artist statement
I have made the centre and focus of the artwork a gathering of people seated around a meeting place collaborating and learning. This represents the SING event, where there is learning and sharing of knowledge about genomics, and learning and sharing of culture, tradition and the history of genetics research in Australia. It represents collaboration and conversation, to overcome issues surrounding genomics in the community, and to allow for ethical and inclusive genomics research in the future.
The double helix on the left and right side of the meeting place represents DNA and genetics. Footprints emerge through the helix, which represent the footprints of our Ancestors, embedded in our DNA. Emu and Kangaroo footprints are displayed on each side of the double helix, demonstrating connection with native animals on mainland Australia, and that they too have continued to pass down DNA. Turtles are displayed on each side of the continued double helix to demonstrate the connection with animals in the Torres Strait Islands, and that they also have continued to pass down DNA.
The green, blue, black and white pedigree represents Torres Strait Islander people and family lines being passed down each generation. The black, yellow and red pedigree represents the same genetic meaning for Aboriginal people. While the pedigrees show genetics being passed down from generation to generation, they also represent culture and tradition being passed down.